Caribbean Hot Sauce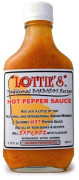 Don't those bottles of Caribbean hot sauce look delicious? My mouth waters just looking at them. Uncle Daddy is a BIG fan of West Indies hot sauce!
In the US most folks say "hot sauce", but in the West Indies they are typically called "hot pepper sauce". And hot peppers they are! The most common peppers used are habanero and scotch bonnet. The scotch bonnet is most common in Jamaica. Both are very hot peppers and make some firey sauces.
Similar to American-style sauces, West Indies hot pepper sauces are made from chili peppers and vinegar, with fruits and vegetables such as mango, papaya, and carrots added for extra flavor. Yellow mustard is also not an unusual ingredient with these sauces. Over time each island developed its own unique recipes. Local small-batch sauces are still common.


Caribbean Hot Pepper Sauce Brands
Pictured at the top of the page, from left, are Melinda's Hot Sauce from Belize, Miss Anna's hot pepper sauce from St. Croix U.S.V.I., Lottie's hot pepper sauce, Suzie's hot sauce from Antigua, Grace hot pepper sauce and Pickapeppa Sauce both from Jamaica, and Baron hot sauce from St. Lucia.




Return from Caribbean Hot Sauce to Types of Hot Sauce page.