Sriracha - Thailand's Tastiest Export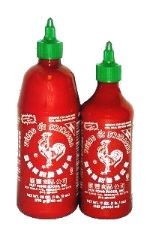 Sriracha hot chili sauce is a generic name for a Thai hot sauce named after the seaside city of Si Racha, Thailand. The name of the sauce is pronounced SIR-rotch-ah. It is also called "Rooster Sauce" or "Cock Sauce", due to the picture of the rooster on its label.
This sauce is a paste typically made from sun-ripened chili peppers, vinegar, garlic, sugar and salt. The popular sauce made by Huy Fong Foods in United States is different from the Thai paste it's named after. Shark, pictured above right, is another popular brand.


Huy Fong's Týõng Ớt
The popular Týõng Ớt sauce sold in a plastic squeeze bottle with a green top is a product made by Huy Fong Foods, an American company based in Rosemead, CA. Huy Fong trademarked it's sauce's name in the US in 1990. That is why other brands may be labeled Sriraja (with a j toward the end).
The rooster on Huy Fong's sauce is the astrological sign of founder David Tran. David left Vietnam on a freighter called Huy Fong.


Sriraja Panich
The first mass marketed Thai-produced Sriracja, and widely regarded as the original, is made by Sriracja Panich. This sauce was eventually taken over by the Thai Theparos Food Products Public Company Limited of Thailand which continues to market the sauce under the label "Golden Mountain Sriracja Panich". Panich is Thai for "commercial".

Cooking Substitue
Chinese garlic chili sauce is a good substitue for the Huy Fong product. Watch the sugar and salt, though. Chili garlic sauce is typically unsweetened, but the Sriraja sauces usually contain sugar.




Return from Sriracha to Types of Hot Sauce page.